BUSINESS

Welcome to Elentec, the little giant renowned for transformation and innovation in the state-of-the-art digital industry.
Overseas Branches (South East Asia)
ELENTEC have 9 oversea branches in 5 countries to supporting global network and we are expanding sustainable world.
- Elentec will make people happy through a development of future technology.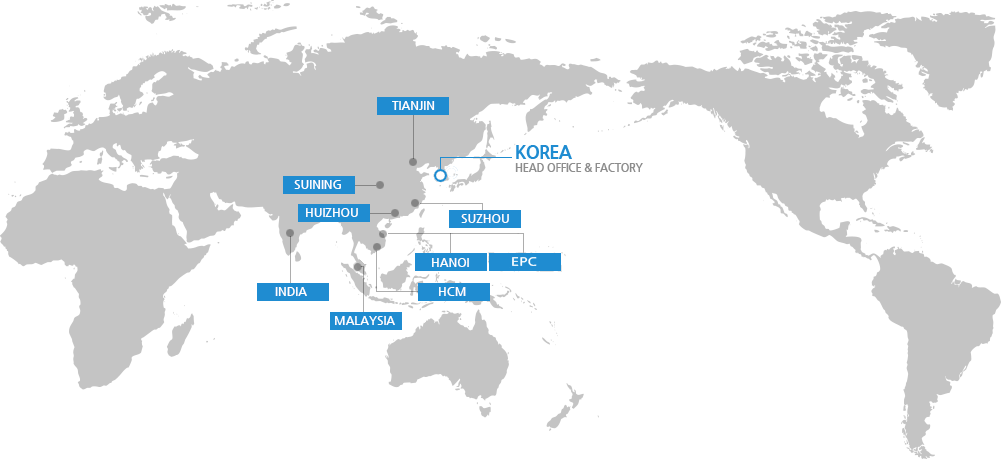 본사

생산,판매

경기 화성시 동탄면 동탄기흥로 64-3

Tel. +82-31-8066-1234
Fax. +82-31-8066-1234

종합 연구소

종합 개발

경기 화성시 동탄면 동탄기흥로 64-3

Tel. +82-31-8066-1234
Fax. +82-31-8066-1234

멀티미디어 연구소

선행기술 센터

경기 화성시 동탄면 동탄기흥로 64-3

Tel. +82-31-8066-1234
Fax. +82-31-8066-1234
Elentec (Suzhou) Electronics Co., Ltd

이랜텍 소주전자유한공사는 노트북 배터리팩 전문 생산기지로 Samsung, DELL, Apple, HP를 주요고객으로 하여 세계 일류 배터리팩 제조 메이커로 발전하고 있습니다.

Established

2006.01

Address

Block 39, Dongjing industrial Workshop, Loufeng, Suzhou Industrial park, China

Employees

1,000 people

Main Products

Notebook Battery Pack

Elentec (Tianjin) Electronics Co., Ltd

이랜텍 천진전자유한공사는 휴대폰, 캠코더, 디지털 카메라용 배터리팩과 Touch Function Board, PCM, IRIS 등을 제조하여 중국 내 삼성전자에 공급하고 있습니다.

Established

2001.11

Address

ZhengYing Village, Development Zone, Beizhakou Jinnan Zone, TianJin China

Employees

450 people

Main Products

Mobile phone ? Digital Camera
? Camcorder Battery Pack

Elentec (Huizhou) Electronics Co.,Ltd

이랜텍 혜주전자유한공사는 휴대폰용 배터리팩을 제조하여 중국 내 삼성전자에 공급하고 있습니다.

Established

2008.06

Address

Hongchuan Road, Zhongkai Tongqiao District, Huizhou Guangdong, China

Employees

200 people

Main Products

Mobile Phone Battery Pack

Elentec (Suining) Electronics Co., Ltd

이랜텍 수녕전자유한공사는 노트북 배터리팩을 생산하고 있으며, 중국 내륙지역의 거점을 확보하 Samsung, DELL,HP 등에 공급하고 있습니다.

Established

2012.03

Address

Chuangxin Industrial garden, Suining City, Sichuan, China

Employees

350 people

Main Products

Notebook Battery Pack
Elentec Malaysia SDN. BHD

Elentec Malaysia manufactures 3D glasses, touch function board, wire harnesses, PCB assemblies, cables and motors, and supplies them to Samsung Electronic in Southeast Asia, the Americas and Europe.

Established

1990.08

Address

Lot2247, Jalan Rajawali, Mukim Teluk Panglima Garang, Daerah Kuala Langat, 42450, Selangor Darul Ehsan, Malaysia

Employees

700 people

Main Products

Wire Harness, Function Board,
Interface Board

Elentec Vietnam Hanoi Co., Ltd

Elentec Corporation Hanoi mainly manufactures the major components of mobile phones such as cases, battery packs, and battery chargers and supplies them to Samsung Electronics.

Established

2010.12

Address

44J Quang Minh Industrial Zone, Me Linh Hanoi, Vietnam

Employees

1,450 people

Main Products

Case, Metal Case, Assembly, Mobile Phone Battery Pack

Elentec HCM Vina Co.,Ltd.

Elentec Corporation Ho Chi Minh mainly manufactures touch function board, wire harnesses, PCB assemblies, cables and motors, and supplies them to Samsung Electronic.

Established

2015.09

Address

Road No1, Nhon Trach 1 Industrial Zone, Phu Hoi, Nhon Trach, Dong Nai, Viet Nam

Employees

450 people

Main Products

Wire Harness, Function Board, Interface Board

Elentec Vietnam Energy Co., LTD

Elentec Vietnam Energy Corporation mainly produces battery packs, which are the main components of power tools and notebooks, and supplies them to Samsung SDI.

Established

2017.11

Address

Lot 44D, QuangMinh Industrial Zone, MeLinh, Hanoi, Vietnam

Employees

780 people

Main Products

Power tool battery , NotePC battery Pack

Elentec India Technologies PVT. Ltd

Elentec India EI branch is located in Noida, India. It manufactures remote controllers and cables for Samsung Electronics.

Established

2000.05

Address

CASE Factory : Eou Unit-57/1&2, Ecotech-1, Extension-1 Greater Noida-201308 G.B.Nagar(U.P), India (Tel . +91-120-2447098)
Charger Factory : Plot No. B-37, Sector-80, Phase-II, Noida-201305(U.P),India (Tel. +91-120-4057800)

Employees

3000 people

Main Products

Battery Charger, CASE, Wire Harness, Cables